Oracle's Big Data Appliance includes Intel's new processors and the latest release of CDH (Cloudera's Distribution, including Apache Hadoop) and Cloudera Manager, as well as Oracle Enterprise Manager Plug-In for
Oracle Big Data Database Appliance. Oracle Big Data Connectors have been enhanced to enable greater database SQL access to Hadoop from Oracle Database.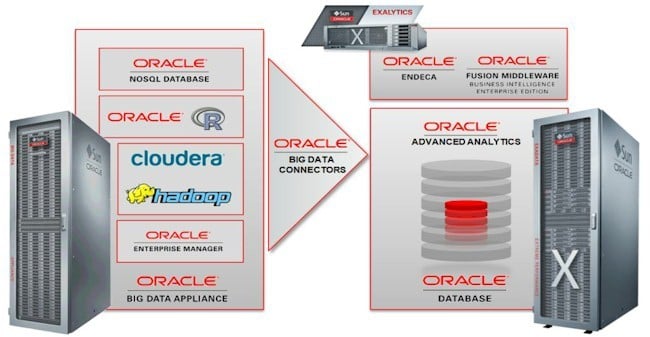 "An influx of raw data sets is flooding every enterprise. However, before businesses can take advantage of the potential opportunity, they face a significant challenge in organizing these diverse datasources," says Cetin Ozbutun, vice president of data warehousing and big data technologies at Oracle. "The latest updates further improve the abilities of our customers to optimize big data workloads and integrate them with their data warehouses to easily analyze all data throughout the enterprise."
Big Data Database: appliance and connectors
Oracle Big Data Appliance is an open, multi-purpose engineered system for Hadoop and NoSQL processing. It runs a diverse set of workloads – from Hadoop-only workloads (MapReduce 2, Spark, Hive etc.) to interactive, all-encompassing interactive SQL queries using Oracle Big Data database SQL. Big Data Appliance provides an open environment for innovation while maintaining tight integration and enterprise-level support. Organizations can deploy external software to support new functionality – such as graph analytics, natural language processing and fraud detection. Support for non-Oracle components is delivered by their respective support channels and not by Oracle.
In addition to providing Oracle Big Data database SQL and the full Cloudera software platform, Big Data Appliance utilizes Oracle Big Data Connectors to simplify data integration and analytics. Big Data Connectors provide high-speed access to data in Hadoop from Oracle Exadata and Oracle Database – with data transfer rates on the order of 15 TB/hour. Big Data Connectors also enable integrated, highly scalable analytics – providing native access to Hadoop data and parallel processing using Oracle R Distribution. Finally, Oracle XQuery for Hadoop facilitates standard XQuery operations to process and transform documents in various formats (JSON, XML, Avro and others), executing in parallel across the Hadoop cluster.